I often find myself avoiding creme finish polishes because it is difficult to hide flaws in a creme manicure. If i wear a creme finish polish, i generally layer a little something (or a massively blingy something) over the creme to add some sparkle or shimmer. Since the weather has gradually been warming, and the sun has been making the occasional appearance, I've been doing more and more layering experiments with neons.
When you layer a neon beneath a shimmery polish that isn't heavily pigmented you end up with a gorgeous glow, but the neon effect is a bit softer (which might make it easier for someone who is shy about neons to give them a try). If the neon creme you choose is a bit sheer doing two coats of neon, plus one coat of the shimmer polish you've chosen, will help you avoid the dreaded "Visible Nail Line".
As I'm sure many of you already know, there are a lot of fabulous neon polishes out at the moment. There are also some fabulous shimmery polishes (China Glaze Summer Days, Misa Candy Girl, Sweet Pleasures, and Lolli Jolly) that are sheer enough to allow your neon base to glow through. I've chosen a few of my recent experiments to share with you, i hope you enjoy and feel inspired to try some combinations of your own!
China Glaze Purple Panic topped with Color Club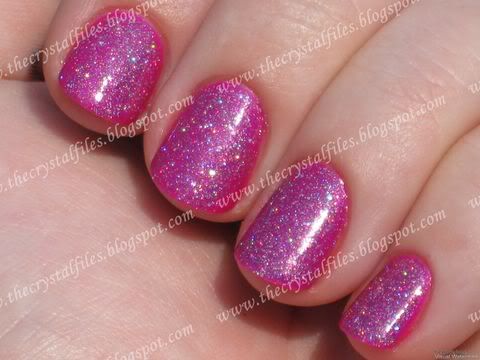 China Glaze Rose Among Thorns topped with China Glaze Raspberry Festival
Zoya Paz topped with China Glaze Cherry Pie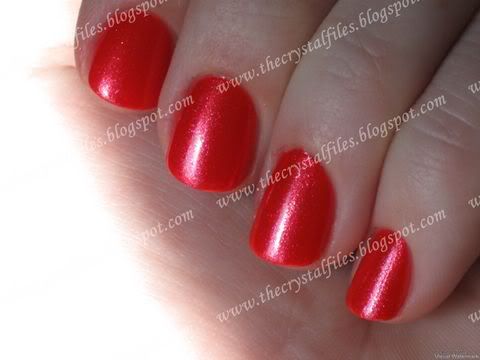 These are the few combinations i managed to get photos of (when the sun made an appearance) but I've tried a few other combinations you might also like:
Essie Perky Purple topped with Misa Candy Girl
Misa Pour Me Something Tall and Strong topped with Misa Sweet Pleasures
China Glaze Japanese Koi topped with China Glaze Cherry Pie or Orange Marmalade
China Glaze Turned Up Turquoise topped with China Glaze Watermelon Rind
Layering is a ton of fun, and i truly hope you feel inspired to try your own combinations! You may even discover a new favorite summer mani :) And try these layering experiments with some of your favorite older colors as well! China Glaze colors like Drinkin' My Blues Away and Sass in a Glass (or any "glass flecked" polish) are fabulous for layering over neons too!