I'm finally making good on my promise! I hate that it has taken so long for me to get these photos taken and uploaded. It seems that time and the weather never want to play nice together. Not to mention that I've taken up the new (and decidedly addictive) hobby of knitting. Before long i shall need as much storage for yarn and knitting needles as i already have for polish!
But i digress, you're here for photos of the lovely new Zoyas, not idle chatter about knitting!
First up is Jo, which is my second favorite of the collection (Harley being my absolute fav from this collection)
Next up is Barbie, which is a fabulous bubble-gum-barbie pink with very subtle shimmer. I really like this one, although i likely won't wear it much until the weather warms up.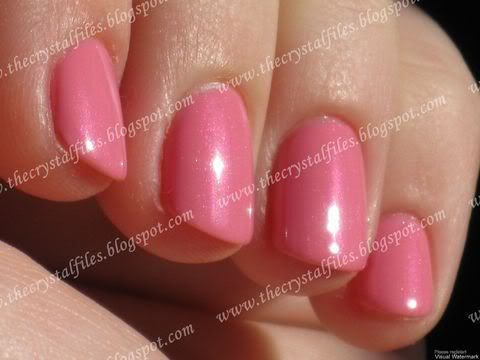 And here is Zoya Cassi, which is really a beautiful color, I'm just not entirely certain it likes me all that well. I think it may be a tad too warm/peachy for my skin tone.
The remaining two colors are both creme finishes. They apply amazingly well! Silky smooth, and nearly opaque at only one coat. I am not, however, much of a creme finish wearing gal. I dressed up one or two fingers in each photo with a layer of Zoya Shimmer Gloss top coat.
Malia
And Moxie
I apologize for the dents and smudges on Moxie, i was back and forth trying to make lunch for the little one in between polish changes and photo snapping!
I hope you've enjoyed this refreshing little blast of spring!