Well, i mentioned before how very much i wanted to hate these polishes, simply out of principal. I mean, they're made by OPI, but more expensive (way more expensive for those of us who buy our OPIs from etailers)and only available at Sephora, so difficult for some people to access.
I am forced to admit, however, that i do not hate them. In fact, i love them. I only had application issues with Run With It, and those were solved with judicious use of thinner. Meet For Drinks applied like a dream, and i am really liking the sturdiness of the bottles and the lovely old-style OPI brush.
Meet for drinks falls in my "vampy berry" category, and at least two of my most favorite polishes of all time also fall into that category (China Glaze Social Animal and OPI NYPD Beet). I see this easily rising to the top of my list of favorites for fall. The shimmer in this decadent berry-wine stunner imparts a soft glow that is perfect for pairing with the richly textured fabrics of cooler months.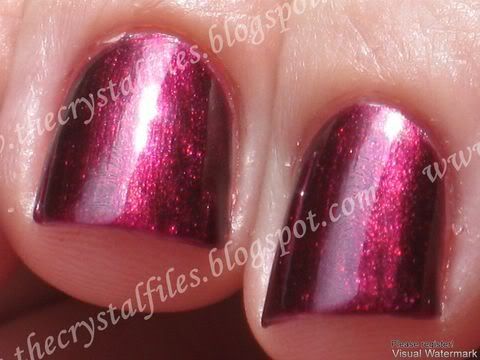 Sadly, Meet For Drinks is (i believe) a limited edition color, and it disappears from the Sephora shelves nearly as quickly as they can get it in. If you find yourself lusting after this one, grab it while you can!