First off i need to welcome a friend of mine to the blog-o-sphere! Stop by
www.thenailphile.blogspot.com
if you love wonderful pics of gorgeous polishes on a set of the most beautiful natural nails you've ever seen! The new blog has been lovingly brought into existence by a pal of mine from
MUA
, a wonderful nail boarder who has plenty of nail wisdom to share, so please stop by :)
Now, i thought
I'd
take a few minutes of you time to discuss a few of my favorite cuticle care products. These are seriously HG status products that i ALWAYS keep in my manicure box. I have mentioned these products briefly before, but thought i would write about them in more detail.
Lush Lemony Flutter Cuticle Butter: A super softening cream that smells divine! This healing
unguent
contains Shea Butter, Mango Seed Butter, Avocado Oil, Lemon Peel Oil, and Lavender Oil, just to name a few of the ingredients designed to soothe, smooth, and heal rough cuticles. I generally use this product twice daily, once in the morning and again when i go to bed. It absorbs more quickly than many wax based products, which tend to lay on the surface of my skin. In combination with a couple of other products, this cream has my cuticles looking better than ever! It is also fabulous for rough heels and dry elbows.
CND
(Creative Nail Design) Cuticle Eraser: A seriously amazing product i was introduced to via the
MUA
Nail Board. For many gals on the board, this product is an absolute must have. Cuticle Eraser contains a blend of moisturizers and Alpha
Hydroxy
Acids that not only help smooth and heal your cuticles, but also help prevent the build up of excess cuticle on the nail plate. With regular use to maintain your cuticles, you will find yourself needing to use cuticle remover far less often. I generally only need to apply cuticle remover once PER MONTH now that i maintain my cuticles with Cuticle Eraser. This product is not a cuticle remover, it is a leave on maintenance treatment designed to reduce excess cuticle build up.
Sally Hansen Diamond Strength Nail and Cuticle
Rejuvenator
: A micro-crystalline scrub for your cuticles and nail beds. This product gently buffs away ridges on the nail and rough patches on the skin around the nail. It also helps removes any cuticle build up from the nail plate. A true wonder product. I only need to use it once every couple of weeks to keep my nails and cuticles silky soft. I apply and massage (per package directions) just before showering, then rinse off in the warm water. I love this stuff!
Seche
Vite Dry Fast Top Coat: This products is so amazing, words just aren't enough. Before being introduced to this product by the blog
www.alllacqueredup.com
, my manicures took forever to dry (even when using a drying treatment or drops). I often woke up the morning after doing a
mani
to a mess of sheet marks, dents, and smudges. Now i simply do not have to worry about doing a fresh manicure just before bed,
Seche
will insure it is dry TO THE NAIL in 20-30 minutes (of course, you experience may vary a bit depending on the number of coats of base and lacquer you use). I simply could not live without
Seche
Vite, and i now buy it in the huge refill bottle.
And now onto the other business of the day, PICS PICS PICS! My gorgeous
NOTD
is
Misa
Fatal Affair from their Fall 2008 Poisoned Passion collection. I love this polish, it is the perfect
vampy
purple for me!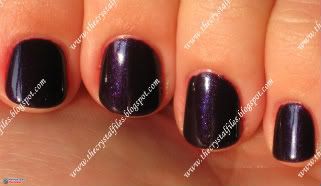 All right,
Chicas
! That's all i have for now, but I shall write to you again soon.