Hi again, my dears! Need to catch you up on a couple of gorgeous
NOTDs
. First up we'll do pics of China Glaze Branding Iron, a fabulous browned-burgundy based polish with awesome red shimmer. This one glows! Like so many others in the collection, the quality of the shimmer is just incredible. You'll see what i mean :)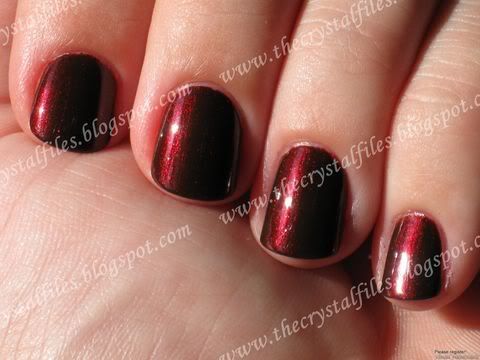 And next up
Sephora
by
OPI
Never Enough Shoes. I love it. I didn't want to. I wanted to resist the urge to buy, i tried to convince myself that they were just overpriced
OPIs
. I finally gave in, however, and picked up two colors that seemed very unique. I have to say, i have no regrets. Never Enough Shoes applies like a dream, and is amazingly smooth for a polish containing glitter. The base is black latex, infused with evenly distributed multi-tonal glitter. In the bottle the glitter looks primarily silver, gold, and red/pink. On the nail you'll catch sparks of blue and green as well. The finish is smooth enough that one coat of
Seche
Vite was sufficient.
A word of warning: If you are looking for a
blingy
, black-based glitter, this isn't it! The glitter is teeny-tiny. The over-all effect is subtle, chic, and edgy. If you're looking for in your face glitter, you'll likely want to look elsewhere. I, however, love the subtlety of it. The application, polish formula, and brush are very nice quality as well.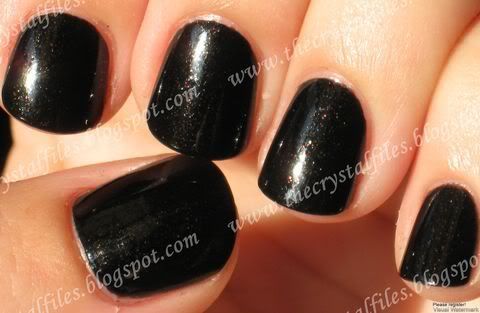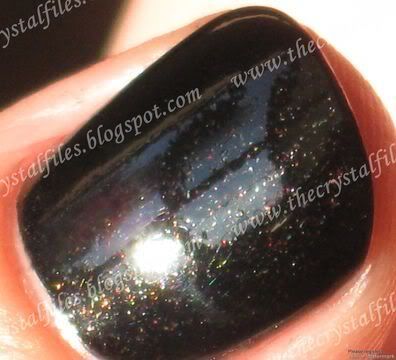 I look forward to sharing my other Sephora by OPI purchase with you as well. My second choice, Run With It, is an incredibly unique pale gray with awesome golden and silver toned shimmer. It is so gorgeous! I promise to share it with you soon :)