What a great fall color!
Zoya
introduced
Rihana
as part of their new Pulse collection for Fall this year, and i am certainly impressed! Application was fantastic, super smooth, and i love
Zoya's
brush! I find myself drawn to
Zoya
not only because of i like the formula and brush, but also because they have tons of great colors, and their bottles are so elegant. I've
swatched
all of the colors from this collection, and i have to say i didn't find a dud in the bunch, they're all so pretty!
Here are a few shots of the lovely
Rihana
in morning sunlight (indoors).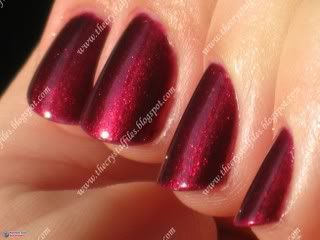 I'm also test-driving the
Zoya
Color Lock system, and so far so good. I had a few bubbles in the armor top coat, but nothing i haven't experienced with all of my other top coats this time of year. I did put
Seche
Vite on top of Armor and then followed up with the Hurry Up drops, i just don't trust myself not to screw up a perfect
mani
without my
SV
.
If you get an opportunity to try it, you should also give the
Qtica
Cuticle Repair Balm, which is so rich and soothing. I've tried it a few times since yesterday, and my cuticles look so incredibly smooth, and feel so silky! I don't particularly care for the scent, but
I'm
willing to ignore that if i get such beautiful results.
I'll be sharing many more of the
Zoya
,
Misa
, and China Glaze fall collection colors over the next few weeks, so check back if there's one i haven't gotten to yet.