They're
Heeeerrrreeee
!!!!
Any of you gals who know me from
MUA
are already familiar with my
Misa
obsession. I love everything about
Misa
, from the utterly fabulous looking bottles, to the awesome brushes, the amazing formula, and the fantastic colors. This Fall collection has to be one of the best EVER! The colors are so seductive, i just want to sit and stare at them sitting so prettily in their lovely bottles :)
First up are Dying Love and Toxic Seduction, both of which
I've
had a chance to do full
manis
with. Dying Love is a gorgeous black satin kind of color, the silvery shimmer is very subtle. Toxic Seduction has a blackened green base infused with tons of forest green micro glitter.
Dying Love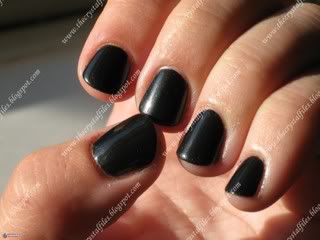 Toxic Seduction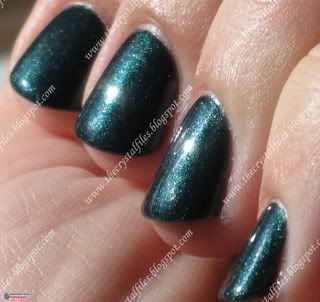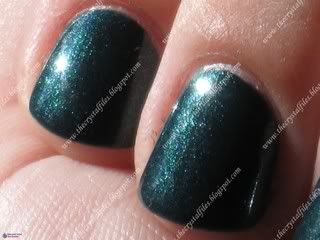 The remaining four colors
I've
only had an opportunity to swatch, but my goodness! I can tell you right off the bat, Fatal Affair is my absolute favorite from this collection, and Sin Worth Committing comes in a close second.
Sin Worth Committing (Index and Middle) and Love Bite (Ring and
Pinkie
)
Close up of Sin Worth Committing
Fatal Affair (Index and Middle) and Forbidden Lust (Ring and
Pinkie
)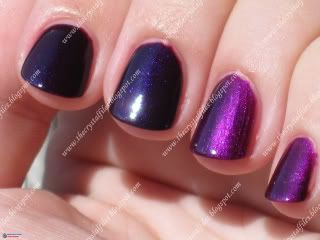 Close up of Fatal Affair
Close up of Forbidden Lust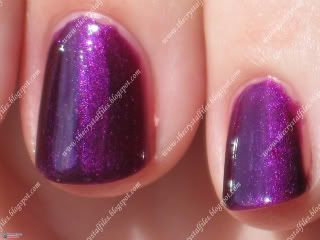 Wow!! These are hot, and i have no doubt that
I'll
be sporting Fatal Affair on my tips very soon. Hope you ladies enjoyed, and keep an eye out for these at
http://www.misacosmetics.com/
,
http://www.head2toebeauty.com/
, and
http://www.transdesign.com/
.