I've found a new polish love, and it's name is Sea, I Told You! by OPI. For me, the OPI South Beach collection was an unfortunate failure, but Sea, I Told You! has given me new faith in OPI. Sea, I Told You! has a stunning finish that is both foil and micro-glitter. It truly does remind me of the ocean beneath a bright, sunny, blue sky. In low light you may even catch a glimpse of the soft laverder sparkle and *hint* of duochrome this polish has. For complete opacity i need three coats, but i certainly don't mind when the end result is this stunning!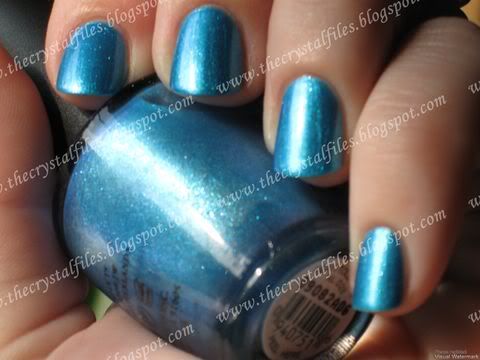 I also had a brief moment of sunshine yesterday to snap a photo of these skittle swatches of a new brand (new to me, anyways) called Entity. I'm pleasantly surprised by the quality of these polishes. These swatches are each two coats, no base or top coat. The fomula is quite smooth, although a tad bit thick, and dries quite shiny. The orange is by far my favorite of the group i ordered, and i would recommend it to anyone who wants a great bright (but not neon) orange. I apologize for the smudged pinky swatch, i bumped it just before taking the photo. Colors are Pearl Orange, Pearl Turquoise, Pearl Violet, and Pearl Fuchsia.
Entity polishes are available to order through Transdesign.com, i've yet to see them at any retail location. They're certainly worth checking out!
For any who might be interested to know, i've finally gone over to the dark side and ordered a Konad stamp and several plates. At the moment i am simply experimenting and practicing, but i hope to soon be able to share some fun new Konad NOTDs with my readers! If you're considering ordering a Konad stamper, i would highly recommend
OCNailArt
for your Konad needs. The owner provides fabulous customer service and offers a %20 of discount for readers of the
Sasse Stamping Stampede
blog. Simply enter code SASSE at checkout to receive your %20 discount.