Now, lets get this party started right!
I won't show you the condition my teeny-tiny nubbins are in today, seeing as how i just returned from a week at the beach where i did zero nail/cuticle maintenance. Lets just say they're not up to my usual standards.
So how will i return them to their former healthy state? Here are the products i use, and a brief description of how/when i use them.
I care for my cuticles using two HG products daily,
CND
Cuticle Eraser (1-2 times a day) and Lush Lemony Flutter Cuticle Butter (again 1-2 times per day, after my cuticle eraser has been absorbed). I also use Sally Hansen cuticle remover in the blue bottle (once every 3-4 weeks) and Sally Hansen Diamond Strength Cuticle and Nail Refiner (once every 2-3 weeks). I try not to cut my cuticles unless i absolutely have to. I use a Sand Turtle buffing board to smooth the ridges in my nails and remove yellowing once every couple of weeks. When i need to shorten and/or shape my nails i use a glass nail file. I also take a hair/skin/nail vitamin supplement containing 3
mg's
of Biotin 1-2 times a day.
And when i need a quick pick-me-up
mani
, a gorgeous color that i know will improve my mood, what color(s) do i turn to? The following are a few of my absolute favorites that i know will never let me down.....
Misa
For the Woman With a Secret. Hands down on of my favorite pinks of all time. The base is a deep, cool pink that looks amazing with my
skin tone
(if i do say so myself) and the fabulous golden shimmer gives amazing depth.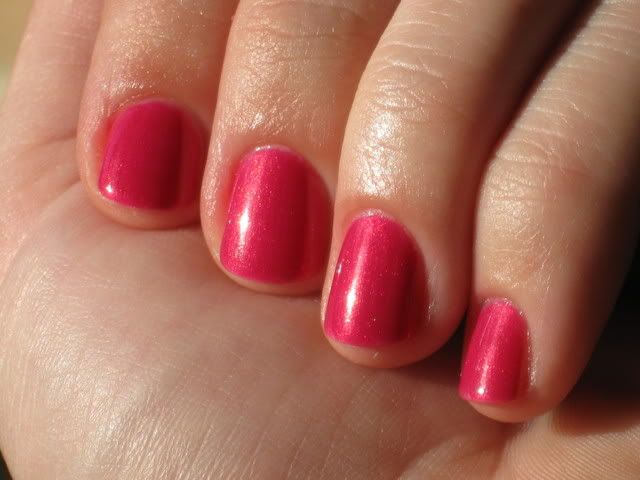 Essie Strawberry Sorbet. Another of my favorite pinks, and a guaranteed pick-me-up! It is bright, incredibly glossy, and has the tiniest hint of shimmer which is really only visible in intense sun, but adds a lovely glow in softer lighting.
Misa
Caravan Chic. A
mid-toned
, warm, shimmery purple. It is simply gorgeous. I love it more each time i wear it.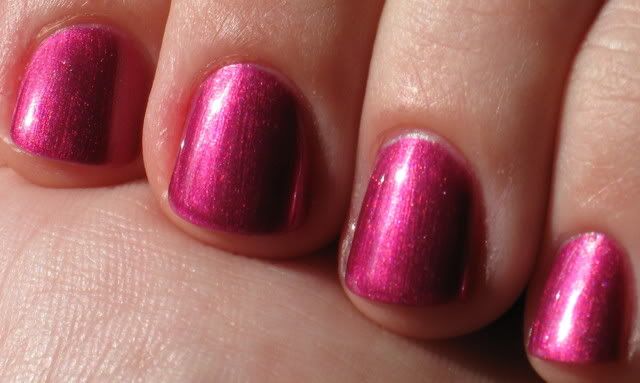 And one of my favorite additions to any neon
mani
, China Glaze Wireless Top Coat. Talk about knock your socks off!!!
Over Essie Mini Shorts (my favorite orange neon!)
Over
China Glaze
Turned up Turquoise (what a great combo!)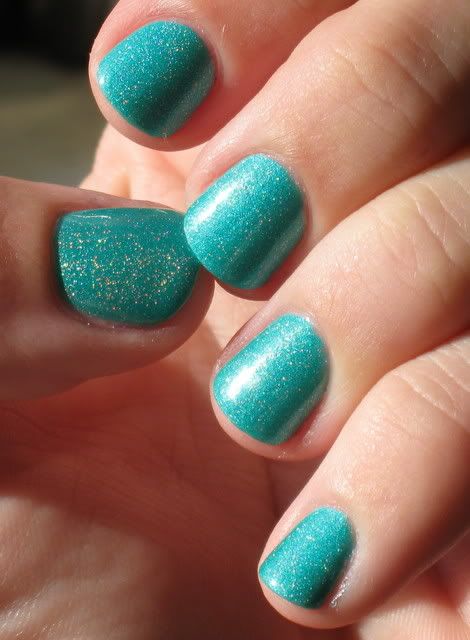 These colors are by no means ALL of my favorites. There are many more that i hope to share with you over time. So be sure to tune in for future installments!
What, you may ask, does a complete
mani
consist of once
I've
chosen the perfect color? My HG base,
Seche
Vite Ridge Filling base coat. My HG top coat,
Seche
Vite Fast Drying top coat. If i use Wireless top coat, i still apply
SV
over it for added shine and faster dry time.
Seche
Vite fast drying top coat is an absolute life saver, i can't imagine life without it! A few other items i always keep out and ready while doing my
mani
:
Orangewood
sticks, polish thinner, polish remover (usually a small amount in the bottle cap to dip q-tips or orange wood sticks in for clean-up), pointy q-tips, and felt squares for removal.
Well, i think that's it for this "File". Thank you all for reading, see you next time!