I have this new obsession, and considering i never thought i'd have the patience to do any nail art what-so-ever, i am amazed at how addicted i've become. I am addicted to the dotting tool! The tool i've been using for my recent Polka Dot manis is actually an "embossing stylus" that i purchased at AC Moore for under $4. From what i understand this tool, while sold for use in card making and scrapbooking, is identical to a "dotting tool" one would purchase at a nail supply store. Ac Moore had a few different sizes/brands of this type of tool, each of which were double ended (each end being a different sized "dot").
Before i move onto some photos of my recent experiments in polka-dotting, i'll say a few words about using the dotting tool. This is an incredibly simple means of dressing up a mani. I've created all of these manicures using either regular polishes that are heavily pigmented (like Zoya Pippa, a bright, intensely pigmented yellow creme), or nail art polishes (such as Art Club White) which are by nature well pigmented.
I have found that the key is to test the polish i want to use for my pattern first. On scotch tape i put a couple of layers of the base i'm planning to use, and then i use my dotting tool to apply whichever polish i'm considering. I do this to avoid frustration, having tested, i already know if the polish i've chosen is opaque enough to create polka dots with. If you find that you have to put a large glob of polish on your nail to create an opaque dot, you might have chosen a polish that isn't pigmented enough. The down side to using too much polish for your dots is that you'll have a bumpy manicure, and you may also have trouble getting the dots to dry.
When you're applying the dots, hold the tool perpendicular to the nail surface and tap lightly to apply. The base polish does not need to be completely dry, but it helps if it has set enough that it isn't sticky. Practice helps again when you're figuring out how much pressure you need to use when applying.
Now, enough babble, onto the photos!
My first adventure in Polka-dots (China Glaze Entourage base and China Glaze Laced Up Polka-dots):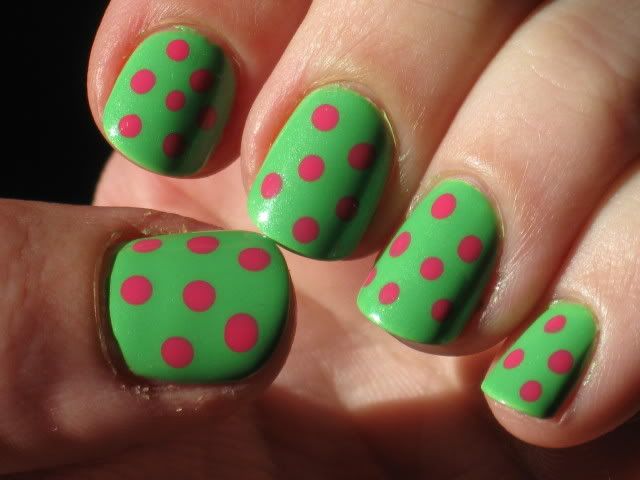 Next came Zoya Katy with Art Club White polka-dots on the ring fingers:
Then i took a break from the dot maddness, here are a couple of cloudy day photos of Zoya Tallulah (quite possibly my new favorite blue of all time!):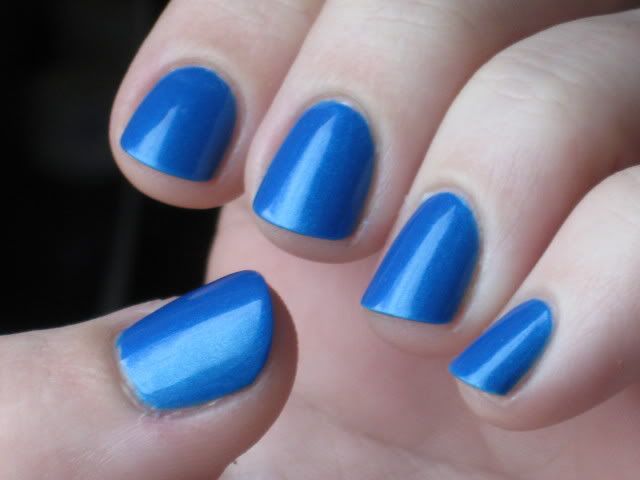 with flash:
And last, but certainly not least, my current Spring-y Easter Egg inspired mani using China Glaze Custom Kicks (turquoise) and Zoya Pippa (lovely bright yellow creme):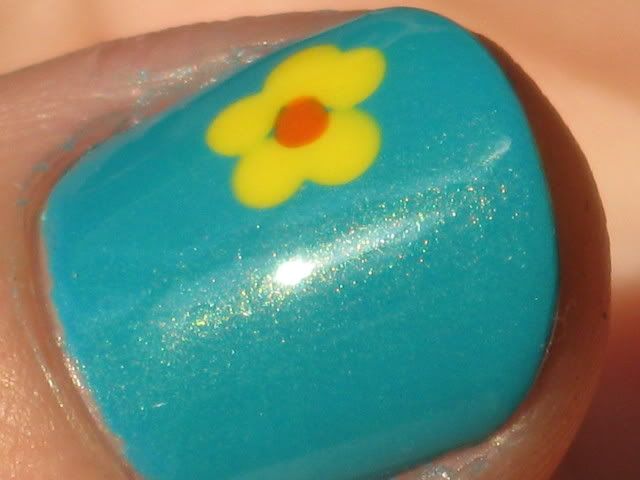 If you're looking for a fun way to jazz up your manis without having to use decals or commit to Konad, a dotting tool may be the way to go! This has turned out to be a simple and fun way to do a little something different.