As any nail polish fanatic knows, super bright polishes are always in style during the warmer months. Bold, bright polishes dazzle in the sunlight, and play well with sun-bronzed skin. This season several of my favorite polish brands are introducing polishes that fit the uber-bright neon trend.
Before moving on to the photos, i want to mention one factor that can often take a polish consumer by surprise. Polishes that contain neon pigments ALL, to varying degrees, dry more matte that those that do not. The more neon, the more matte the polish will be when it dries. Although many are initially put off by this, all you need is a coat of your favorite shiny top coat and you'll have a brilliant, shiny manicure or pedicure. Now, on to the photos.
First up the Essie Neon Collection for summer 2009. I have seen these already at my local Ulta and Trade Secret stores, so they're readily available!
From Index to pinky the colors are Funky Limelight (the photo is of 5 coats with Poshe top coat, i highly recommend layering this one over white unless you don't mind visible nail line), Punchy Pink (three coats and top coat), Perky Purple (three coats, but should've done two, and it's brighter in real life than the photo), and Flirty Fuschia (three coats and top coat).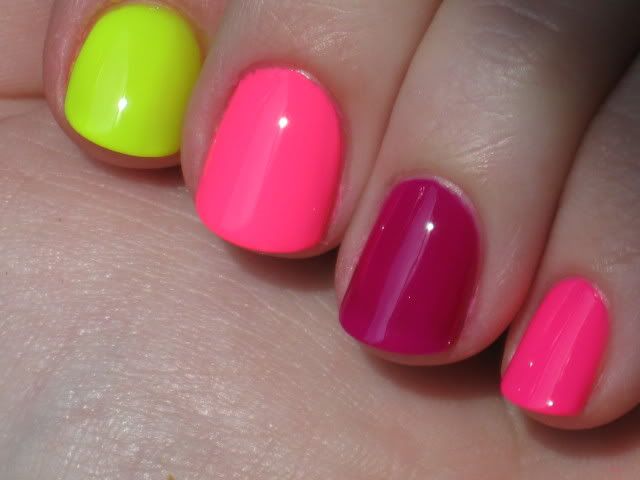 Next we have the Color Club Electro Candy collection. All of these shades do contain neon pigment and have lovely irridescent shimmer added.
All polishes are shown with three coats and top coat. From thumb to pinky the colors are Pure Energy, Electro Candy, What a Shock, Ultra Violet, and Tangerine Scream. Bottle shown in photo is Color Club Volt of Light.
And finally we have the gorgeous bright creme shades from Zoya's La Di Da collection. Thumb and index (Dita and America respectively) are not neons, but i included them since they're part of the same collection. The three neon shades, from middle to pinky (Ali, Paz, Renee) are shown with three coats and top coat.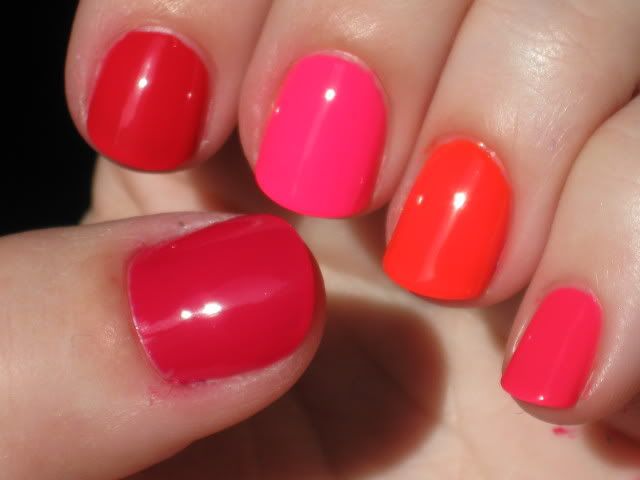 I hope you'll all be inspired to try a few neons, i promise they will brighten your day! Please stay tuned for more fabulous polishes for summer!