Earlier this week i received the China Glaze Kicks collection and i have some
very
quick and dirty swatches of them to share. I am loving this collection. More so even than the Summer Days colors, if I'm being honest. For the most part these colors are pigmented enough to be opaque in two coats, with the exception of three of the colors which I'd consider jelly finish (How Street It Is, Style Wars, Sneaker Head), and one of the shimmers (Paper Chasing). I will add that for the most part I use a ridge filling base (Zoya Get Even) which can help hide VNL (visible nail line). These photos are no base, no top coat.
First up the cremes, my least favorites because I'm a shimmer kind of gal.
Index to Pinky: Oh How Street It Is, Sneaker Head, Style Wars, Laced Up (thumb is a repeat of Sneaker Head)
Next up the gorgeous blues and greens!
Index to Pinky: Paper Chasing (the base of this one is quite sheer), Entourage, Sky High Tops, Custom Kicks (a bit more dusty and turquoise in real life; thumb is also Custom Kicks).
Final photo Index to Pinky: Fly, Its Poppin, B-Girlz, Breakin' (thumb is a repeat of Its Poppin). Note there is a bit of VNL in this pic, but having done manis with a couple of these i can attest to the fact that a coat of Zoya Get Even solves any opacity issues.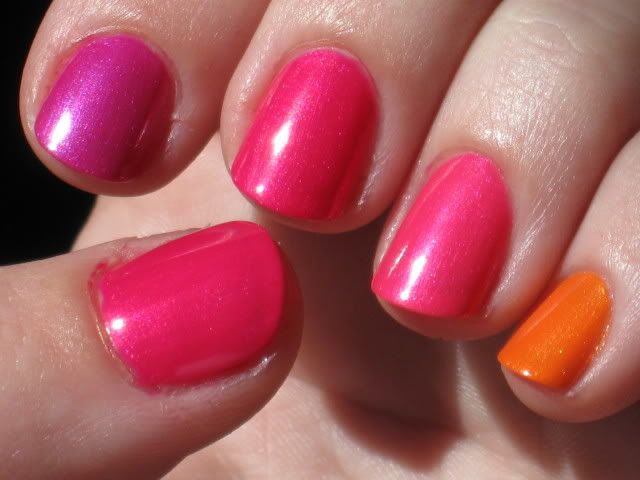 I'm hoping i will get a chance to get better shots of these, especially my favorites of the collection (Fly, Its Poppin, B-Girlz, Custom Kicks, Entourage, Sky High Top). I also have the new Color Club Electro Candy collection in the wings to swatch this weekend, and i hope to have Zoya summer to swatch for you very soon! Stay tuned my lovelies :)