I have been remiss in my posting responsibilities! I do apologize, my sweet readers, for my negligence.
First I'd like to share with you the lovely Borghese Bella Blackberry. This is such a beautiful color, and the formula itself is quite nice, but the brush, ARG! The Borghese brush is slightly wider than the OPI Pro-wide, and curved across the tip to mimic the natural curve at the base of the nail. My problem with it is that it doesn't seem to distribute the polish evenly. Additionally, almost every bottle of Borghese I've purchased and swatched has had a slightly off-kilter brush, which makes it difficult to get the brush to work as it supposed to. All that said, however, this color is most certainly worth it!
The next polish I'd like to share with you instantly rose to the ranks of my top twenty polishes ever. OPI DS Extravagance is absolutely heavenly! Application was smooth as silk, the formula flowed beautifully from the brush, the pigmentation of the base is incredible, and the holo effect is magnificent. I adore this polish. I will be needing a back-up bottle immediately. Enough said, onto the photos!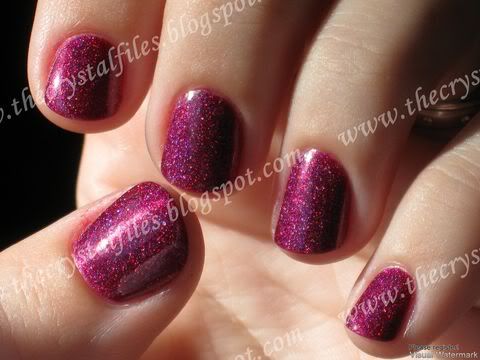 Well, those are the lovelies for this post! I'm hoping Zoya Flourish will arrive soon so i can share those with you. And there are dozens of other polishes i should swatch for you, simply so i can stay caught up! A true Nail Polish addict's work is never done! Until next time, my sweeties :)