Yeah, so I'm already plotting a trip back to Sephora AGAIN to get more later this week. Oy vey! These polishes are fabulously pigmented, and so far I've not regretted a single one. My only regret at the moment is that i didn't get I'm With Brad when i had the chance!
Ms. Can't Be Wrong fits very well with the season's stunning array of rich plums. The finish and color are very similar to OPI Louvre Me, Louvre Me Not but leaning more towards berry than pure purple. The shimmer in this one is very difficult to capture as it is tonally quite similar to the base color. The effect is that rather than looking like a shimmer or metallic on the nail, it has the appearance of a "glowy" cream.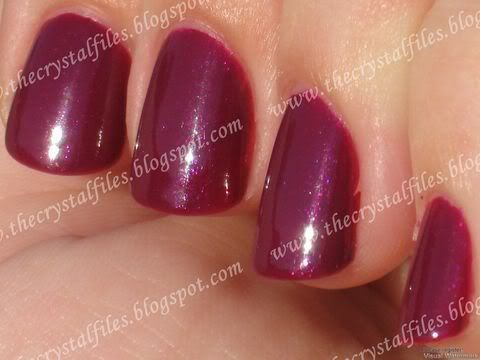 Ms. Can't Be Wrong is part of the core Sephora by OPI color collection, but i would recommend calling before you run to Sephora to buy, as even the core colors have been selling out at many locations.